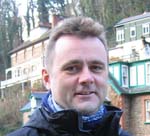 Paul Spence is Senior Lecturer in Digital Humanities at the Department of Digital Humanities, King's College London, where he has been project manager, senior analyst and acting head of department. His research interests include digital scholarship, text modelling, digital edition/publication and the application of Digital Humanities methods and tools to Spanish and Spanish American studies.
He has been responsible for the development of XML-based and semantically aware frameworks for information retrieval and digital publication on over 40 research projects, including Fine Rolls of Henry III (http://www.frh3.org.uk), Gascon Rolls project 1317-1468 (http://gasconrolls.org), Out of the Wings (http://www.outofthewings.org/), la edición digital 'La entretenida' (http://entretenida.outofthewings.org/index.html), Early English Laws (http://www.earlyenglishlaws.ac.uk/) and Mapping the Medieval Countryside (http://www.inquisitionspostmortem.ac.uk/).
He is Treasurer of both ADHO and ALLC-the European Association for Digital Humanities, and is active in Spanish-speaking associations interested in the digital humanities, such as CHARTA (http://www.charta.es/) and Humanidades Digitales Hispánicas (HDH) (http://www.humanidadesdigitales.com/).
For more information, see: http://www.kcl.ac.uk/artshums/depts/ddh/people/academic/spence/index.aspx